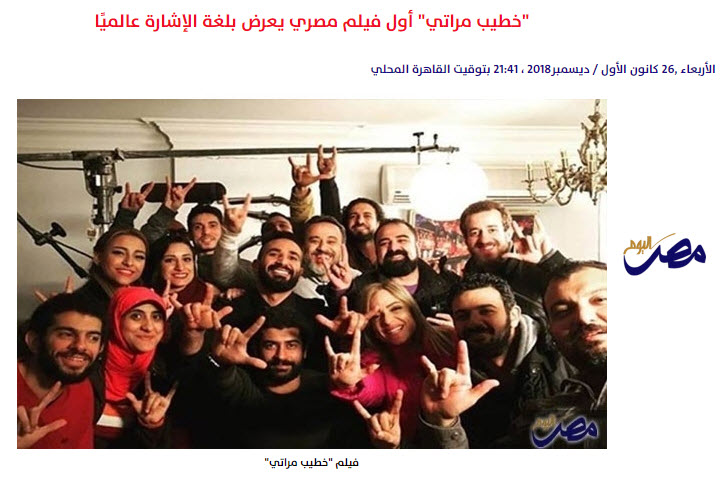 The director Khaled Youssef the producer of film "Khatib Merati" (In English My wife's Fiancée) decided commercial show in the coming period.
The commercial show scheduled in the coming period considered unexpected surprise in the history of cinema in the Middle East and the world where it will display in the same time 2 versions, one of it with sign language ……. khatib merati film production byMisr Arabia Films companythrough Khaled Youssef initiative to support new faces while the two versions, the one isnormalversion starred starring Ahmed Saad, Mohamed Karim, Reem El Baroudi, Ehab Fahmy and the new face Tunisian artist Iman El Amiri, Linda Adel, Laila Hussein, Wael El Aouny, The late Mohamed Metwally, Mai Saleh, Nehal Anbar, and Mohamed Ghoneim, when the actor Safwat Hassan, on of actors of Version of the deaf and dumb people , It is written and directed by Ahmed Afifi in his first artistic experiences.
The film will display in 2 different halls with unique experiencefor first time global, oneversion is normal and other with sign language, in addition to the film's stars in the version of sign languagefrom the deaf and dumb people are MOHAMED TAREK – MUSTAFA HISHAM – HAGERJAMAL – SILVIA SAMI – AHMEDRAJEL – DOAA ELSAYED- AHMAD JAMAL –- MAGDI MOHAMED – FAWZIAALI – SUWSE SWEILEM – OSAMA YOUSSEF- knowing that in this version participatedboth Actress NADA ADEL and Actor HASSAN HARBwere consideredof professional actors.